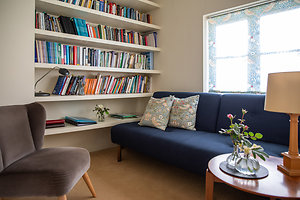 I'm interested in therapy. How do I make contact with you?

Please send me an email or telephone me. You may need to leave a message on my voicemail but please be assured that both my email and telephone are confidential and I will reply to you as soon as possible. I look forward to hearing from you and learning more about how I can help you.

When will we meet?

I have daytime spaces available on Mondays, Tuesdays and Wednesdays. I also offer early morning slots, as well as evening times on those days if you need to schedule a session either before or after work.

Where will we meet?

My practice is based in Hampstead Garden Suburb, a short distance from Temple Fortune on the Finchley Road. It's a peaceful area with plenty of greenery around.
Parking is unrestricted nearby. There is a good bus service along the Finchley Road and the Childs Way bus stop is just a short walk. The 13, 406 and 102 all run frequently to Golders Green Underground Station.

Unfortunately I don't have disabled access to my therapy room.

How long is each session?

Each session lasts for 50 minutes.

As I don't have a waiting room I ask you not to arrive before the time we have agreed on.

How often will I need to attend?

This is something we will discuss in more detail when we meet. According to your needs it will be either once or twice each week

How much will the sessions cost?

My charge is £65 - £75 for a 50 minute session. I am available to offer a lower fee in some circumstances.
My fee is reviewed annually, usually in September.

How do I pay?

We will discuss this in our initial session as I am flexible about being paid session by session or monthly.
Either you can pay session by session in cash, or alternatively I will prepare an invoice for you at the end of each month to be settled by bank transfer.
Please note that I do not invoice insurance companies or accept credit or debit cards.

Do you charge for cancellations?

I always try to find alternative time for us to meet if you need to re-arrange a session. Please note that I ask you to give me two weeks' notice if you need to cancel and, if we can't find a mutually convenient time to re-schedule, I will charge for the missed session.

How many sessions will I need?

This is not something we can predict at the outset. Essentially, we will work for as long as is necessary for you to resolve the issues you came with. However this is mutually negotiable, and so, we will review our work regularly to check that you are receiving the therapy that is right for you. Of course, you are free to end at any stage.

What about holidays?

I will let you know of my planned breaks in good time. I ask for a fortnight's notice if you plan to take a holiday.

What happens when I want to stop coming?

We will negotiate an ending period, which, depending on the length of time you have been attending and your requirements, may be anything from one session to a few months. I usually suggest that we end our work face to face in a session though, rather than over the phone/email etc. This closes our work cleanly rather than leaving any loose ends, and gives you a chance to face any difficulties surfacing at this stage.

What about confidentiality?

Confidentiality is something I take very seriously and we will discuss it more fully in our initial session.

What is the difference between counselling and psychotherapy?

In the UK the two terms are used interchangeably. I think of counselling as responding to an immediate problem or issue which can be resolved relatively quickly. Psychotherapy is the term I use to describe work with people whose problems are longer lasting and typically originate in a person's earliest relationships.